Kyle Anderson: The Alibaba Group Holding Ltd. (NYSE:BABA) stock price crossed the $100 threshold for the first time today (Tuesday) after Chairman Jack Ma expressed interest in partnering withApple Inc. (NASDAQ:AAPL) and its new Apple Pay service.
The comments came at the Wall Street Journal's 2014 Global Technology Conference Monday
Ma said both sides would have to be interested in the "marriage." Later in the day, Apple's Chief Executive Tim Cook said he'll be meeting with Ma at the end of the week.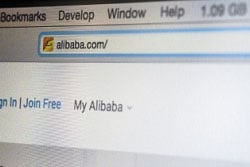 The news sent BABA stock to an all-time high of $100.67 this afternoon. The BABA stock price has now climbed 18% in the last 11 trading sessions. It had closed at a low of $84.95 on Oct. 14.
At today's high, BABA is up 48% from its offer price of $68.
For Apple, the partnership will help the company through some of Apple Pay's early speed bumps. Big-name retailers like Wal-Mart Stores Inc. (NYSE: WMT) and Rite Aid Corp. (NYSE: RAD) have rejected the service due to the lack of customer data they can pull from customers compared to credit cards.
Alibaba is well positioned in the mobile payments market. Its site Alipay is similar to PayPal, and has more than 300 million active users.
Alibaba is also one of the world's largest e-commerce companies with a market cap of $246 billion. Amazon.com Inc. (Nasdaq: AMZN) and eBay Inc. (Nasdaq: EBAY) have a market cap of just $198 billion, combined.
For Alibaba, the partnership would bring the company further into the U.S. market. According to Cook, the iPhone payment service had 1 million sign-ups in its first 72 hours. He also said more credit cards are associated with Apple Pay than with all other similar "tap-to-pay" services combined.
And the U.S. mobile payments market is growing rapidly. With the help of Apple, $100 a share for BABA could be just the start…
BABA Stock: A Long-Term Profit Machine
According to the research from eMarketer, mobile payments transactions in the United States last year totaled $1.59 billion. By the end of 2014, that figure will have more than doubled to $3.5 billion. By 2015, it'll reach nearly $9 billion.
Apple Pay will see much of that growth. As Cook said, his service is already the biggest player in that market after just one month of existence.
But that's not the only exploding market that Alibaba will be exploiting. China is also growing at an alarming rate.
That's why Money Morning's Executive Editor Bill Patalon recommended BABA stock early in 2014 – well before the Alibaba IPO.
Last year, China became the world's largest e-commerce market reaching $298 billion. According to the research firm yStats, that was a 60% year-over-year increase. It also surpassed the $263 billion that was spent in the United States last year.
That's nothing compared to where it's going.
A recent study by the China Internet Network Information Center (CNNIC) determined the number of Internet users in the country will hit 800 million by 2016 or sooner.
Since 80% of all online transactions in China last year took place over one of Alibaba's websites, it will be the biggest beneficiary of that growth.
But the most important factor is the Chinese government, which may end up being BABA's biggest ally…
BABA Stock Price's Unusual Catalyst
Patalon knows Asian economies well. He was posted in China and Japan back in 1996 on a special investigative report. He's also spent time in Vietnam working for the country's shortwave-broadcasting service Voice of Vietnam.
And now he's watching the plans of the Chinese government closely.
"In China's 'E-Commerce 12th Five-Year Plan For 2011-2015′ (that's what it's called), the Ministry of Industry and Information Technology focused on making China a true global powerhouse in e-commerce. I mean a bona fide worldwide leader in this digital transactional realm," Patalon said. "And that plan contains a very interesting element. Something I believe is destined to benefit Alibaba in a major way."
"Beijing wants China to be a global leader in e-commerce," he continued. "But it's also trying to shift the overall economy away from its export-driven roots into a market that's driven by domestic consumer spending – more like what we have here in the United States."
"You'll start to see policies that are conducive to consumer spending, and to e-commerce. That's obviously really good for companies like Alibaba, because it means they'll have Beijing's backing."
Patalon is so bullish about this plan that he sees Alibaba as a $1 trillion company long term. At $1 trillion, BABA stock would be worth nearly $400 per share, or four times today's high.
Written By Kyle Anderson From Money Morning
We're in the midst of the greatest investing boom in almost 60 years. And rest assured – this boom is not about to end anytime soon. You see, the flattening of the world continues to spawn new markets worth trillions of dollars;new customers that measure in the billions; an insatiable global demand for basic resources that's growing exponentially; and a technological revolution even in the most distant markets on the planet. And Money Morning is here to help investors profit handsomely on this seismic shift in the global economy. In fact, we believe this is where the only real fortunes will be made in the months and years to come.
Find out more:  http://etfdailynews.com/2014/10/29/alibaba-group-holding-ltd-baba-a-long-term-profit-machine/2/