Best stocks to buy for the week ending Aug. 15, 2014: Last week for Money Morning Members we highlighted five of the most promising stock picks across three of today's fastest-moving sectors.
Two are plays on booming Chinese e-commerce growth, two are picks in the semiconductor industry (which just notched global sales of $26.86 billion in May), and one taps into the more than $13 billion-per-year real estate advertising industry.
We also recommended two tech stocks to buy that are poised for additional growth, and compiled a list of dividend-paying stocks that just hiked their payouts.
You can find all of last week's tips and recommendations here in our newest list of the best stocks to buy now.
Money Morning's Latest "Best Stocks to Buy" List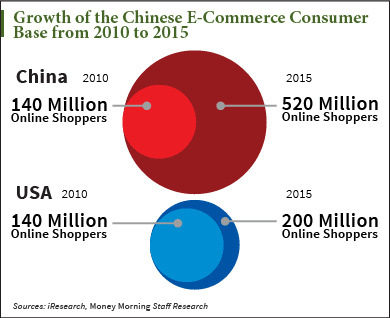 Mainland China has leapfrogged the United States to become the biggest e-commerce market on Earth. Online shopping spending in China reached $298 billion last year, easily surpassing U.S. sales of $263 billion. According to German research firm yStats, China's consumer e-commerce market soared more than 60% in 2013. The best part is there's more growth ahead. "China is still very much an online market in development – meaning the profit opportunities are huge," Money Morning Executive Editor William Patalon III said last week. He recommended these two Chinese e-commerce stocks he predicts will soar with the country's growth – one is a car pricing site that posted a huge earnings beat last week, while the other is a diversified approach to the industry…
On Wednesday, Money Morning Defense & Tech Specialist Michael A. Robinson took a look at the $3.5 billion Zillow/Trulia deal announced in late July and saw a huge opportunity for investors – and it's neither Zillow nor Trulia. You see, as big as the two real estate sites are, even combined they are not enough to lock down the $13 billion that will be spent in online real estate advertising. There's still plenty of room for competition – especially for players that offer niche services the Zillow/Trulia cartel doesn't have. Robinson has identified the perfect challenger – its stock is good for a near-term pop of 48%…
On Thursday, Robinson also delivered to Members a play on the GoPro IPO that launched on June 26. Even though individual investors usually can't participate in IPOs, there's still a fantastic "back door" way to play it. This video semiconductor developer is a little-known but major supplier of GoPro and other companies in the wearable video camera industry – a growth market with sales jumping at an annual rate of 59%…
The $30 billion semiconductor industry is so hot right now that Robinson had yet another way to play the market. He noted that on one hand, the industry is in the midst of a major boom. The Semiconductor Industry Association (SIA) recently announced that global sales reached $26.86 billion for the month of May. It also reported that global semiconductor sales have grown 8.8% year over year for the month of May, and 2% from the prior month. At the same time, the sector is also contracting. "We're seeing a major wave of mergers and acquisitions throughout the field," Robinson said. In the last 12 months, Micron bought Elpida Inc., Avago Technologies Ltd. (Nasdaq: AVGO) announced a $6.6 billion deal to buy LSI Corp., TriQuint Semiconductor Inc. (Nasdaq: TQNT) agreed to merge with RF Micro Devices Inc. (Nasdaq: RFMD), and the list goes on. After looking at these trends, Robinson came up with a plan for investors to outperform the semiconductor market over the long term, with just one investment…
Google (Nasdaq: GOOG, GOOGL) continues pushing the envelope with forward-thinking investments, and last week the company took another leap when it announced a $300 million deal to develop and implement a trans-Pacific cable that will connect Japan and the United States undersea. "If I were a traditional telecom operator I would be terrified," Money Morning Chief Investment Strategist Keith Fitz-Gerald said of the news. Here are all the details on Google's "FASTER" project – and why Fitz-Gerald called it "a super move that'll unlock yet more value in Google stock"…
According to the latest data from S&P Dow Jones Indexes, dividend income made up 5.64% of U.S. per capita personal income in 2012, compared with 4.39% in the previous 10 years and 3.51% in the last 20 years. The rise is fueled by the 696 dividend boosts that were reported in Q2 2014 (compared to the 591 hikes posted in the same quarter last year). A total of 52 companies sweetened the dividend pot in the week ending Aug. 8, and we tracked the 25 most notable boosts. Among them is an energy equipment manufacturer with the fourth-longest record of consecutive annual dividend increases of any listed companies…
Intel stock (Nasdaq: INTC) has gone up 49% over the past year – but it could have done far better had the company done just one thing: jumped on mobile. The chipmaker was later to the game on mobile innovation – but INTC's lagging is about to change.Last Monday, the tech company announced a product that Money Morning Defense & Tech Specialist Michael A. Robinson called "a breakthrough."
Find out more:   http://beforeitsnews.com/economy/2014/08/these-5-stocks-to-buy-now-cash-in-on-3-of-todays-fastest-rising-sectors-by-tara-clarke-2652600.html